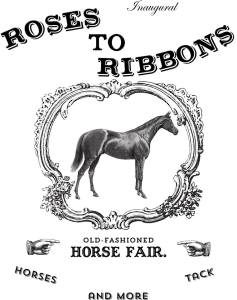 Where do you find off the track Thoroughbreds for sale? Look no further than the Roses to Ribbons Old Fashioned Horse Fair. The horse fair was created to make it easy for buyers and sellers to find each other.
At the horse fair, racehorse trainers bring horses ready for a new career up to the saddling paddock. There, prospective buyers can look at a large number of available horses in one place. If a buyer sees a horse that interests them, they make their own deal with the trainer. Some horses are sold right at the event. Other times, prospective buyers will make arrangements to schedule a pre-purchase exam for the horse at a later time. Everything is worked out individually between the buyer and seller. This is not an auction.
The Roses to Ribbons Old Fashioned Horse Fair is a great opportunity to find a prospect at a reasonable price for any discipline.
The fair also features a variety of vendors at the event. Tack and clothing, artists, racehorse re-homing groups and more are set up in the saddling paddock. If you are interested in being a vendor at the event, contact The Paddock Foundation for information on a table or space.
Roses to Ribbons is held at the end of each Thoroughbred meet at the three major tracks in Texas. Look at the photo gallery below for pictures of past events and photographs of horses sold at Roses to Ribbons successful in their second careers.
We currently do not have an upcoming Roses to Ribbons event scheduled due to the health pandemic, but we hope to resume shortly. Please check this page for more information.
Trainers: Do you have a horse nearing the end of its racing career? Click here for more information.
Below are photos from our event at Lone Star Park in July 2019. Photos by Robin Buchanan.
Check out these photos of a previous Old Fashioned Horse Fair at Lone Star Park…
Click on any photo to view the full size image. Photos courtesy Mary Cage.
Check out these photos of a previous Old Fashioned Horse Fair at Sam Houston Race Park…